Lindy McDaniel – Some background information


Lindy was the first-born of  Newell and  Ada Mae McDaniel, born on December 13, 1935 in Hollis, Oklahoma.    He had two brothers, Von and Kerry Don, who also played professional baseball.  His brother Von died on August 20, 1995. 
Lindy grew up on a farm just north of Hollis, Oklahoma.   He attended a small country high school called Arnett but he credits the American Legion Baseball team in Altus, Oklahoma for giving him the opportunity to develop his baseball skills.   Altus played 72 games in 1951 and 65 games in 1952.   They won the state championship both years.   At age 16, Lindy started and won his first 19 starts in 1952.   In addition to his valuable American Legion experience, Lindy played four years of highschool and played summer ball in Oklahoma City, Bentonville, Ark., and Sinton, Texas.   By pitching more than 30 games per year from age 15 to 19, Lindy developed a strong pitching arm which enabled him to jump straight to the big leagues without minor league training.   At age 19 he was labeled as a "can't miss" Big League talent by Cardinal managaer Harry Walker.    He signed with the St. Louis Cardinals for $50, 000 in 1955.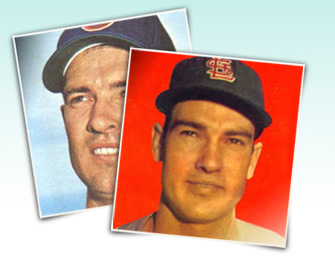 Along with Hoyt Wilhelm and Elroy Face,  He became one of the great pioneers of relief pitching.  During his prime he could warm up in less then one minute and relied on a good fastball, a forkball, a sharp slider and good control.  He was a "thinking" pitcher.   He led the league in "wins" and "saves" in 1959, 1960 and 1963.    He pitched at a time when the closer or top relief pitcher was expected to pitch 2 or more innings facing both right and left handed hitters.   He compiled 172 "saves" and was 2nd all time in wins in relief with 119.   He  has 987 lifetime appearances for pitchers.
During his career he has witnessed approximately 3,500 major league games (not including spring training).  He has had more than 400 teammates including "Hall of Famers" Stan Musial, Red Schoendienst, Lou Brock, Bob Gibson, Hoyt Wilhelm, Ernie Banks, Billy Williams, Willie Mays, Willie McCovey, Juan Marichal, Gaylord Perry, Orlando Cepeda,  Mickey Mantle, Harmon Killebrew, and George Brett.  He has played under eight different managers in five organizations covering a span of thirteen and one-half seasons in the National League and seven and one half in the American League.  Lindy played for five Major League organizations – the St. Louis Cardinals (1955-1962), the Chicago Cubs (1963-1965), the San Francisco Giants (1966-1968), the New York Yankees (1968-1973), and the Kansas City Royals (1974-1975).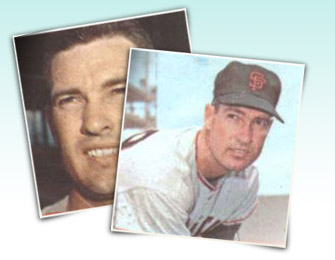 Lindy's overall record is 141-119 with a 3.45 ERA.  He has made 74 starts and has pitched 2,186 innings.  His eight seasons in which he has recorded an ERA under 3.00, seven double-victory seasons and has recorded 20 or more saves in three different seasons.  His victory high came in 1957 when he won 15 games as a starter, his busiest season was 1965 when he made 71 appearances and his lowest ERA came in 1970 with a 2.01 ERA.  Lindy considers his top overall year as 1960 with the St. Louis Cardinals when he logged a 12-2 mark in relief with 26 saves and an E.R.A. in relief of 1.29 while being named to the National All-Star team and earned Fireman-of-the-Year honors.

There have been numerous highlights in McDaniel's career, including several league records.  In 1968 he tied an American League standard by retiring 32 consecutive batters over a four-game span.  He also played in a National League record 225 consecutive games without making an error.

In 21 years the Hollis, Oklahoma native has had many outstanding single-game performances, but in a 1963 outing against the San Francisco Giants stands out the most in his mind.  It came June 6 when he was pitching for the Cubs.

"I'll always remember it.  The Giants came to Wrigley Field in first place and were leading the Cubs by four games at the time.  We swept the first three games and the fans were going wild.  A win in the final contest would put us in a tie for first place.  That Sunday we had another capacity crowd, and the score was tied in the top of the tenth inning.  I was brought in to relieve Dick Ellsworth, our starting pitcher, with the bases loaded and one out.  The first thing I did, with the help of the catcher and shortstop, was to pick Willie Mays off second base, and then I struck out Ed Bailey on three pitches getting us out of the jam.  I received a standing ovation when I walked to the dugout.  I was the first batter up in the bottom of the tenth and hit a home run to win the game.   As I rounded the bases, I was received by the entire ballclub at home plate and was given a very prolonged standing ovation from the fans.  You know about those Cub fans!"

Watching his brother, Von, pitch as his teammate with the St. Louis Cardinals in 1957 also ranks among his most gratifying moments.   "It was a great thrill for me to watch Von pitch.  He was only 18 years old, just two weeks out of high school but stepped right in and shutout the Dodgers in his first start.  He went on to pitch a one hitter against the Pirates."  In fact, Von did not allow a run in his first 20 major league innings including two relief stints prior to the 2-0 win over the Dodgers.  Unfortunately he hurt his arm the next spring.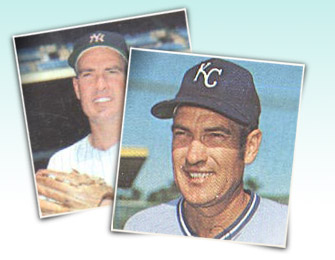 McDaniel also takes great pride in his comeback record having made four "major comebacks."  They came following the 1958 season, after the 1962 season, after midseason in 1968 and following the 1971 campaign.


"I felt my career was hanging by a thread each time, but somehow I was always able to make the necessary adjustments and bounce back," he said.    "As a relief pitcher, I was a workhorse.  The more I pitched, the more effective I became.    Some managers did not understand this.   Also, being a relief pitcher is probably one of the most volatile positions in baseball."  

Lindy's biggest disappointment is never to have played in a World Series.  He shares this disappointment with other greats such as Ernie Banks, Ralph Kiner, Billy Williams, and Ferguson Jenkins.  Others who participated in only one World Series are man like Stan Musial, Ted Williams, Robin Roberts, and Bob Feller.   It takes great team balance and team work to go all the way.

"A number of factors have contributed to my longevity,"  Lindy reports.  "Freedom from serious injury, an easy pitching delivery, clean living, good conditioning, a high motivation level, a strong belief in God, the opportunity to pitch and self-discipline."
Lindy's Religious Background


Lindy was raised by Christian parents.  At a very young age, Lindy had become an avid reader of the Bible.   Lindy was baptized at age 20.   He was bringing religious lessons before the church by age 21.   When he signed his first Major League contract with the Cardinals, it was with the understanding that he would be allowed to worship on the first day of every week.  Both Lindy and all of the teams he played for kept this verbal agreement.  In 1963 Lindy started editing and writing a monthly publication called "Pitching For The Master."   This paper was published until Lindy retired in 1975.  Over the years, Lindy set up devotions for baseball players on road trips.  Upon retirement, Lindy operated a religious bookstore in Kansas City and started fulltime preaching in Kansas City in 1980.  He engaged in fulltime preaching from that point until August, 1995, preaching in such places as Blue Ridge, Missouri; Las Vegas, New Mexico and Selma, California.   Upon the death of Lindy's brother Von in August, 1995, Lindy and wife Alice moved to Hollis, Oklahoma to farm and help take care of His folks.  During this time he always preached on Sunday at a little country congregation in Vinson, Okla.   Lindy's dad died on August 20, 2000 and his mom died a year later.  Lindy's sister Anita was able to move into the country home of their mom and dad in 1995, and they were able to live at home until their death.   In 2004, Lindy and Alice moved to Lavon, Texas to be closer to children and grandchildren.   Alice died from battling her fourth cancer in nine years on March 22, 2008.   Presently, Lindy serves as one of the elders at the Lavon church of Christ and does about 50% of the preaching.   Lindy continues to conduct gospel meetings around the country, but expends most of his energy doing local work.   He is now married to a wonderful, supportive wife, Nancy. 
Lindy continues to write for different publications and is working on a book about his baseball career titled, "Twenty Years In The Pen."